According to a recent study, your showerhead, especially if it's a plastic showerhead, may be harboring a film of potentially dangerous microbes. Scientists from the University of Colorado Boulder swabbed the insides of 45 showerheads, and found films of bacteria growing inside… including a potentially harmful relative of the bug that causes tuberculosis.

Published in the American Journal of Respiratory and Critical Care, medical specialists with National Jewish Health medical center in Denver calculated that up to 30,000 new cases of nontuberculous mycobacteria (NTM) occur each year from a specific bacteria lurking in showerheads and soil. And the numbers are growing.
Turn on your shower for a daily blast of bacteria!
Mycobacterium avium organisms are called opportunistic pathogens. They're always around, but they can't infect you. Until there's a change in the environment.

In this case, it's the fact that showers generate aerosol spray. Many aerosol particles are very small and can penetrate deep into your lungs every time you inhale. The organisms ride along on the aerosol particles, landing in your lungs. Then they start to chew away, much like tuberculosis. The damage accumulates over the course of years before you begin noticing a low-grade persistent cough, weakness, or breathing difficulties.
The surprising reason your shower may be blasting you with bacteria!
Scientists at Manchester University also studied the slime that builds up inside showerheads, and their research found bacteria and fungi linked to a range of illnesses from Legionnaires' and Crohn's disease to septicemia and skin, hair, ear, and eye complaints.
Is your showerhead giving you dandruff?
The Manchester University research identified a fungus called Malassezia restricta that lives inside plastic showerheads. This fungus causes dandruff and infections on your scalp.
Plastic showerheads and hoses pose the greatest health risk
Plastic showerheads, as well as plastic shower hoses, are a dark, moist place and the perfect environment for the organisms to form a tough bio-film. They attach more easily to plastics than to metal.

Cleaning your showerhead kills everything momentarily, but the next time you turn on the shower, your municipal water system delivers more organisms!
Protect your health with BUBBLE-RAIN®
BUBBLE-RAIN® espresso XL showerheads and hoses are made of copper, an antibacterial metal, and produce 80% less aerosols than normal showerheads. BUBBLE-RAIN shower heads produce 80% less aerosols than normal shower heads due to their soft shower jet, a fact which was verified by the Fraunhofer Institute for Toxicology and Experimental Medicine, Germany.

As an added bonus, limescale will not clog up the spray holes of the BUBBLE-RAIN shower head. The built-in vortex technology activates the water by the whirling action, which sucks in atmospheric oxygen, preventing limescale. Additionally, the BUBBLE-RAIN shower counteracts calcification in the shower holes.
BUBBLE-RAIN® is the first showerhead with the Blue Angel "protects the climate" ecolabel
Are you living an environmentally-conscious life? Terrific! That's what the coveted Blue Angel Award guarantees.

When you use products that carry the Blue Angel ecolabel, you can be sure that you're doing something good for yourself, the environment, and the future. That's because the Blue Angel is an environmental label awarded by the federal government of Germany to products that have demonstrated they offer unique protection for the consumer as well as the environment.

The BUBBLE-RAIN espresso XL showerhead was awarded the Blue Angel ecolabel because of its high energy efficiency and low risk of bacterial contamination.
Save $345 annually and STILL enjoy long, hot showers!
With the low water consumption of only 1.6g/min (0.056 ounces/min), BUBBLE-RAIN shower heads are saving approximately $345 in hot water costs annually!A short calculation:With a shower time of 5 minutes daily, the BUBBLE-RAIN shower head consumes about 16 gallons less water, corresponding to 5,840 gallons per year. With an average water price of 0.0235¢/gallon, this represents a reduction of water costs of about $138. The cost of heating the water, based on 12¢/kWh is approximately $207. Added up, this makes a saving of about $345 per year.
Experience a shower that feels like you're playing in a summer rain
Turn on your shower, step under the BUBBLE-RAIN showerhead, and a waterfall of single, air-filled water bubbles cascade as a soft, silky downpour of rain on your skin.

This new and unique wellness experience is a patented vortex technology found only in the BUBBLE-RAIN showerhead.

Millions of individual water-saving bubbles, similar to soap bubbles, are produced. The only difference is that they consist uniquely of only water and air, producing a stream of soothingly soft, but powerful drops, making even rinsing of shampoo from full, long hair, possible.
Two showerheads are available for complete protection in every shower in your home
BUBBLE-RAIN® XL Shower Head plus handle: A wand‑style showerhead With both options, simply unscrew the existing showerhead and screw the BUBBLE-RAIN® XL showerhead in its place.

For even more protection from bacteria, dandruff and fungi, replace your existing wand shower hose with the FLEXCLEAN® Hose. Simply unscrew your present hose from the plumbing fixture coming out of the shower wall or tub, and screw in the FLEXCLEAN® Hose.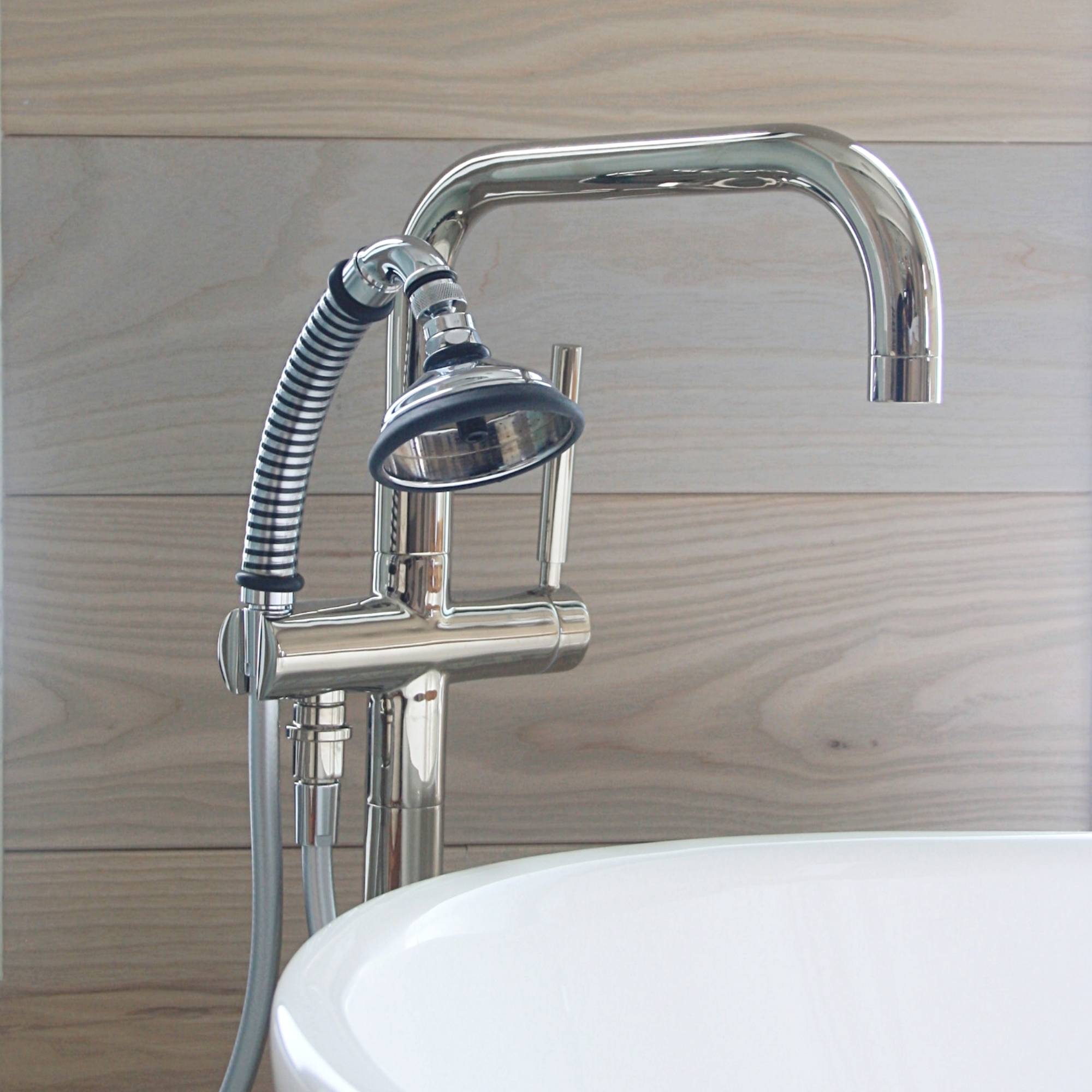 BUBBLE-RAIN® XL
Shower Head & Handle
Save up to $345 in annual hot water costs while still enjoying long, hot showers.
Is dangerous bacteria hiding in your showerhead? Protect yourself from a daily blast of bacteria with the BUBBLE-RAIN XL shower head with handle.
Click here for more BUBBLE-RAIN® options